Exfoliates, removes dead skin and reduces in-grown hair
Regular price
₹1,350.00
Sale price
₹399.00
Unit price
per
70% off
Sold out
CLEARANCE SALE
Product Benefits
Rich in essential antioxidants

Gently exfoliates your skin

Maintains natural hydration and keeps the skin refreshed

Prevents ageing of skin

Suitable for all skin types
Share
Why Use Soulfood Body Scrub
A natural body scrub that is packed with the goodness of superfoods like rose, grapefruit, acai berry, coconut, and sugar. The Soulfood body wash has natural ingredients which gently exfoliate the skin, keep it nourished, and remove dead skin.
View full details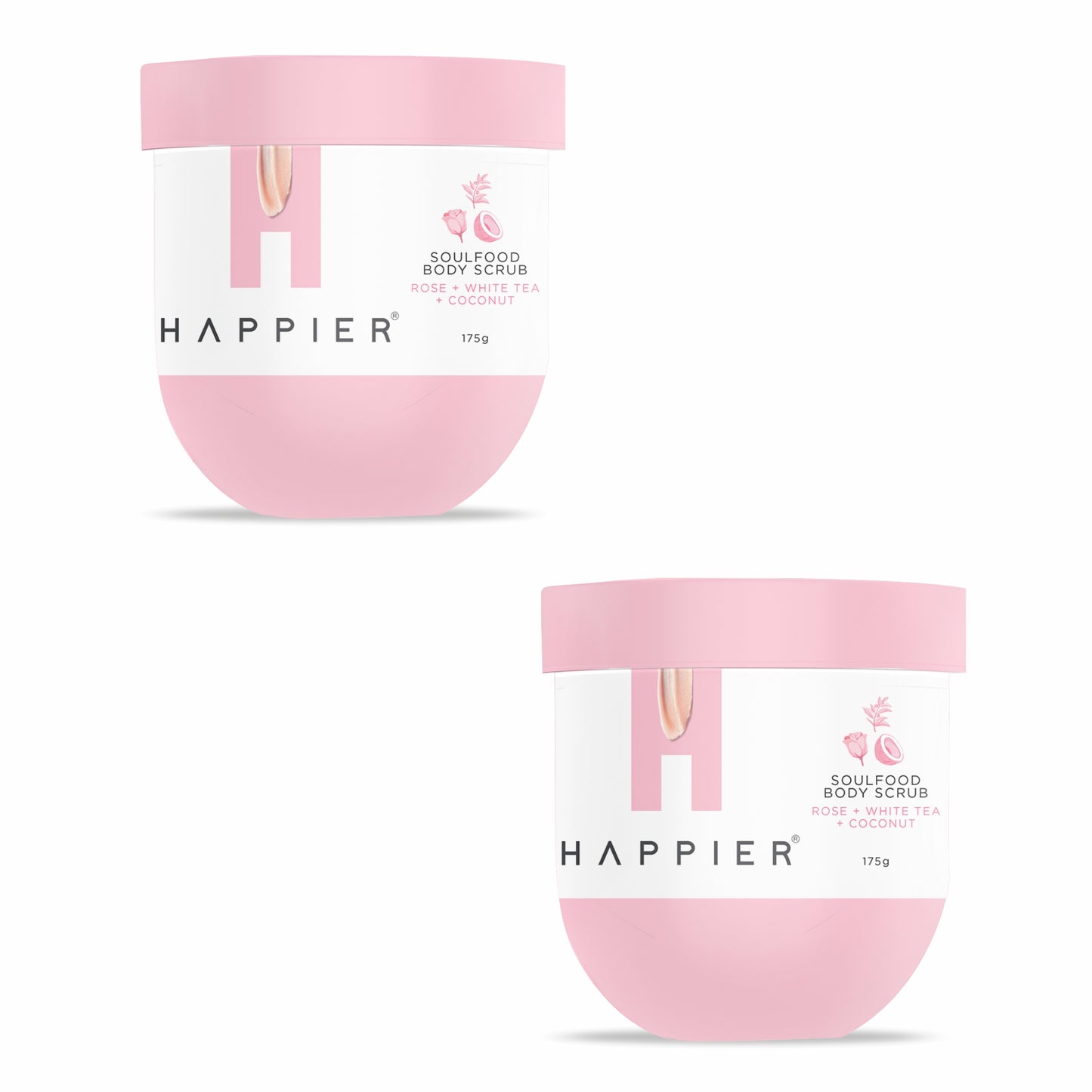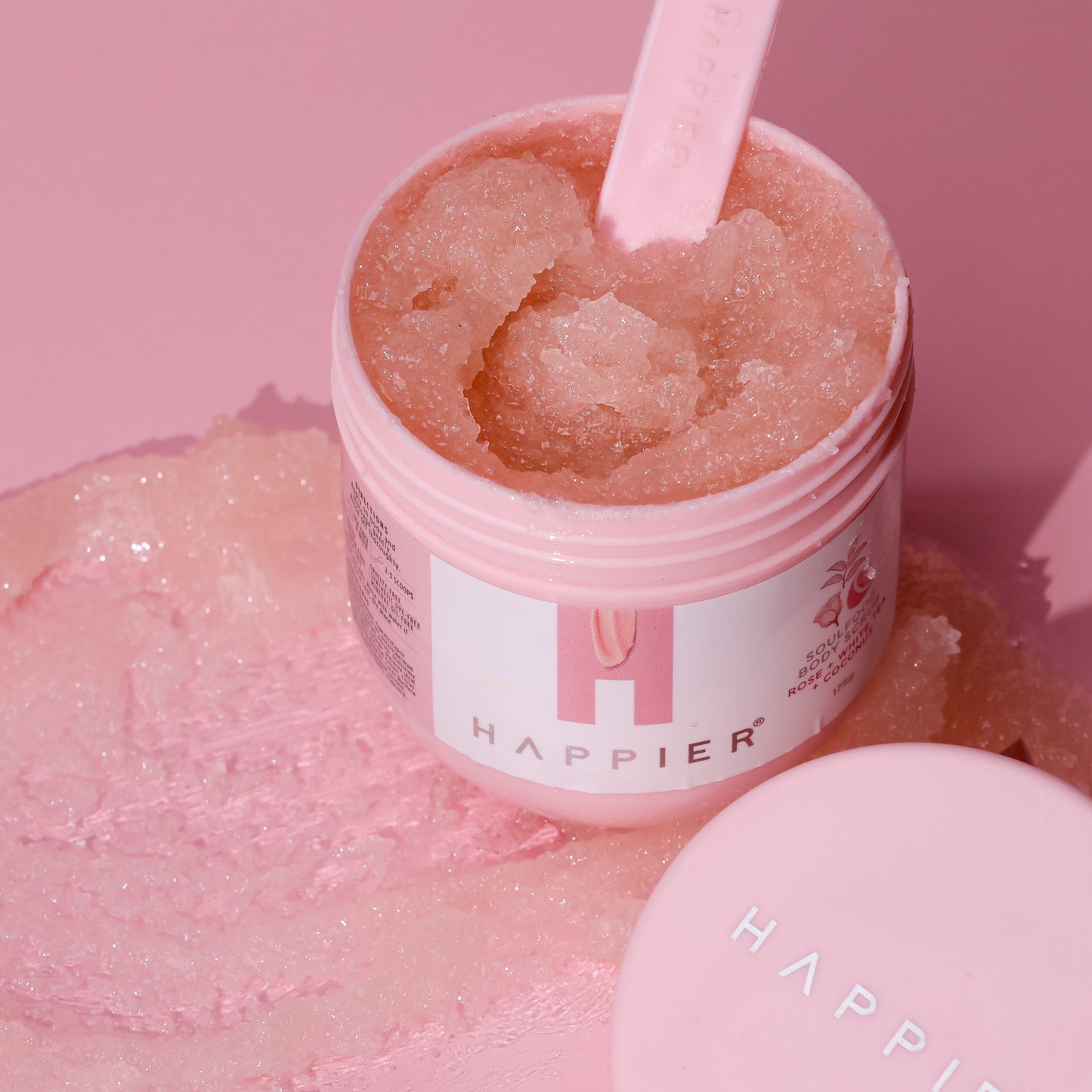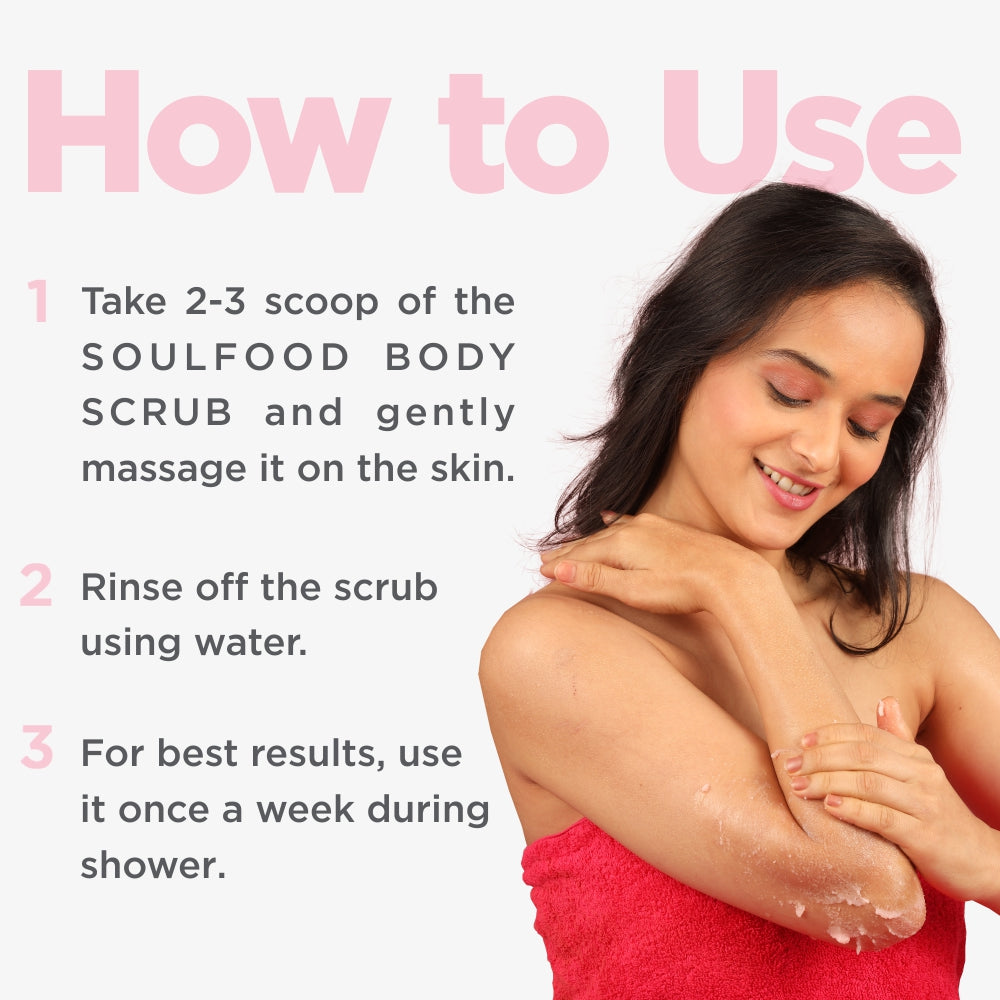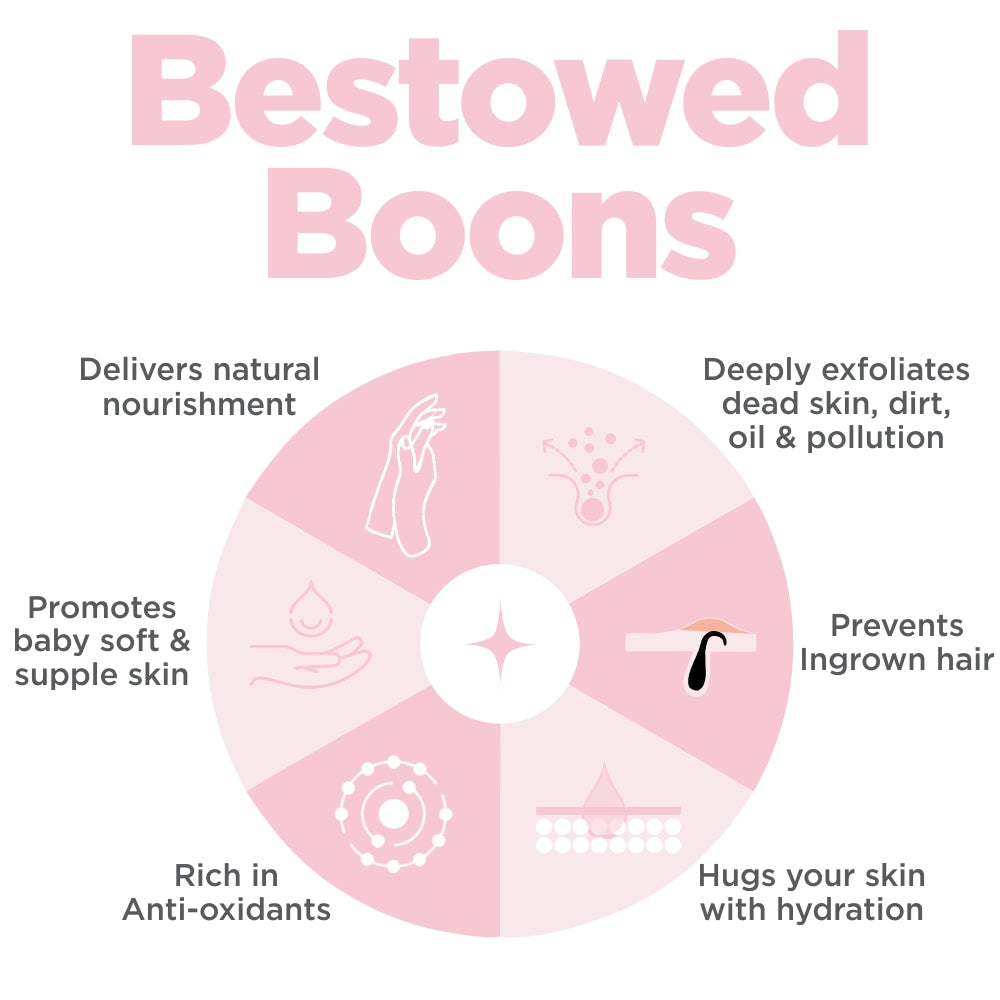 Collapsible content
Superfoods

Rose
Coconut
White Tea
Grapefruit
Shea Butter
Sugar
Acai Berry
Full Ingredients

Sucrose, Cetearyl Ethylhexanoate, Caprylic/Capric Triglyceride, Cera Alba, Hydrogenated Castor Oil, Butyrospermum Parkii Butter, Caprylyl/capryl Glucoside, Persea Gratissima Oil, Rosa Damascena Flower Oil (Rose Oil), Euterpe Oleracea Fruit Oil, Camellia Sinensis Leaf Extract, Citrus Grandis (grapefruit) Extract, Bixa Orellana Seed Oil, Cocus Nucifera (Coconut) Oil, Ethylhexylglycerin, Hydrogenated Lecithin, Preservative, Natural Red Iron Oxide (CI 77491), Fragrance    
How To Use

Take 2-3 scoops of the Soulfood body scrub and gently massage it on the skin
Rinse it using water.
For best results, use it once a week during shower.
Why Happier is better?

At Happier, we believe in holistic self-care. Our products combine the goodness of natural as well as scientifically backed ingredients to maintain your body's harmony and strike a balance between your inner and outer well-being. Every formulation at Happier amalgamates extensive research and experimentation with carefully sourced natural superfoods for you to embrace a Happier version of yourself!
**Note: Products Under Clearance Sale are not eligible for return and refund.
What Our Expert Says!!!
Your hair is like 90% of your selfie. Thus, investing in your hair is always been a great investment. We all know how essential hair care is to maintain your...

Your hair is like 90% of your selfie. Thus, investing in your hair is always been a great investment. We all know how essential hair care is to maintain your...
More About Product
Best Body Scrub for Smooth, Glowing Skin
Our skin constantly goes through harsh irritants such as oil residue, dead skin cells, hormonal changes, weather effects, and even stress. Several factors work against our skin's natural radiance. Skincare products help us to bring back our natural glow, however, these products won't work until the skin gets deep cleansed. Hence, leading to restoring your natural glow, you must make your skin go through exfoliation using the best body scrub. Soulfood body scrub is highly packed with the goodness of superfoods like grapefruit, rose, acai berry, sugar, and coconut. This body scrub has natural ingredients which exfoliate your skin, keep it nourished and remove dead skin. Using a superfood body scrub helps to remove all kinds of dirt and dead cells from the layer of your skin. The reason if you allow the dead cells to stay on your skin's surface, it might lead to acne, blackheads, and other skin issues. Using chemical-based body scrubs can harm your skin. Hence, it's highly recommended to try body scrubs made of natural ingredients to strip your skin of its natural oils and moisture.
Buy exclusive body cleaning scrub online at low prices
Most people believe that our daily skincare regime begins and ends with our face. Taking care of our face is foremost, and so is taking care of our body. We can't forget about it. Our body also needs deep cleansing and nourishment to stay hydrated, beautiful and radiant. The benefits of using a body scrub are countless. Hence, using a body scrub should be part of essential self-care. Our skin keeps on changing. The dead skin sheds naturally revealing the beautiful baby skin underneath. However, it's a slow process. Along with that pollution and other forms of environmental stress damage your skin making it dull, itchy and rough. An ideal body scrub helps to remove dead skin and encourages the production of healthy skin. Natural body scrub not only smooths and polishes the skin but also removes impurities. Buying a natural body scrub would help you get rid of all impurities making your skin look super healthy and glowing. There are many ways to buy the must-have body cleaning scrub. You can also buy it online at affordable prices.
Benefits of using superfood body scrub:
Smooth skin
A good body scrubs deep cleanse your skin and helps to clear away dry and dead skin cells resulting in refreshed, nourished and brightened skin. A body scrub made of natural ingredients such as Sucrose, Castor oil, Butter, Citrus Grandis Extracts and more helps in gentle exfoliation and smoothens the skin without any irritation. Body scrub also works well on the hardest part of your body like the elbows and knees. Hence, a superfood body scrub is the best way to smooth out these super annoying dark spots. For better results, don't forget to moisturize your skin after exfoliation.
Promotes clear skin
Having dry, dead skin results in body acne and blemishes. Most of them occur when the dead skin gets clogged in your pores. When you use a body scrub, you remove the dead skin cells and clear away blemishes. Hence, your skin starts healing and generating new skin cells resulting in no blemishes. You get clean and radiant skin.
Promotes hydration
When you have dead and unnourished skin cells covering your body, it becomes difficult for your skin to absorb natural moisturizers and lotions. They won't work on your skin and hence, they will cause an unattractive look on your skin. Exfoliating your skin to remove dead cells will help you to absorb the goodness of moisturizer leaving your skin feeling soft and hydrated.
Reduce stress
Exfoliators give you the chance to escape from the pressures of reality and focus on yourself. Yes, using a body scrub detox your skin, reduces stress and brings you to a place of comfort and peace. Whenever you have a long hectic day, exfoliate your body with good body scrub and feel the magic. You will feel so calm, relaxed and stress-free. Hence, exfoliation of your body reduces stress and anxiety.
Boost your confidence
Body scrub boosts your confidence. How? With deep exfoliation, your body's appearance will improve making you feel more radiant and hydrated. Focusing on your self-care helps to boost your confidence as it allows you to reflect on your inner as well as outer beauty. Hence, using a natural body scrub plays a big role in boosting confidence.
Things to remember while exfoliating:
Exfoliating your body is an easy task but there are a few things that you still need to keep in mind while doing it. Otherwise, your all efforts will go in vain and there is a high chance your skin gets dry.
Avoid pressure
Never apply too much pressure while scrubbing your body. Just scoop a bit of body scrub into your palm and start scrubbing your body in a circular motion. Applying more pressure won't help. It won't lead to any higher benefit. It would be hurting your skin more. If you still feel any pain while using the scrub, rinse it off.
Control the temperature
It's always recommended that before applying body scrub, soften your skin with warm to hot water beforehand. This process will make your skin get ready for deep cleansing and exfoliation. But make sure the water should not too hot. You will end up drying out your skin.
Do not mix it up
Never ever mix your body scrub with body wash or any other skincare product. You will end up drying out your skin. Mixing or combining two products together won't give the results of any of the products. Hence, use body scrub without mixing with any other product.
How to use a body scrub?
The body scrub is the best skincare product to promote youthful skin and boost your skin health. However, there is a process to follow if you want to make the most of your product. Otherwise, you could damage your skin too. Below are the steps stating how to use a body scrub to get clean, glowing skin:
You should use a body scrub in the bath or shower.
For the best results, wet yourself with some warm water. Make sure it's not hot otherwise your skin will get dry.
Put some product on your hands and start rubbing it in circular motions.
Massage the body scrub into your skin. But don't put more pressure otherwise the massage could turn into pain.
Massage your body for 4-5 minutes.
Then, rinse the scrub with warm water.
After the shower, use a penetrating moisturizer to seal the effects of your body scrub.
You don't need to use the body scrub every day. Once or twice a week is enough for good results. Overusing it would damage your skin.
---
You May Also Like:
Best body wash to rejuvenate your body
A good body wash helps to cleanse your skin of impurities like dirt, makeup, oil and sweat. Buy the exclusive body wash made of natural ingredients, suitable for all skin types. Get ready to flaunt your smooth, radiant skin.
Best Skin Cleanser for healthy, glowing skin
Skincare is incomplete if you are not using a superfood skin cleanser. An ideal cleanser helps to deep cleanse your skin making it look firmer, cleaner and shinier. Buy the best skin cleanser, suitable for all skin types. Marine collagen to fulfil your daily nutritional needs
How much a healthy diet you have been following, your nutrition needs still remain incomplete. Hence, it's recommended to have supplements to fulfil your nutrition making your body healthy and stronger. Buy Marine collagen supplements and stay healthy.
Perfect Face toner for super clean, healthy skin
A face toner helps to refresh your skin and protect it from stripping its natural moisture. Toner also helps to absorb the natural ingredients of a moisturizer to keep your skin healthy and radiant. Buy superfood face toner, suitable for all skin types.
FAQs
What is body scrub used for?
The body scrub is one of the important skincare products that help to exfoliate your skin and remove all kinds of impurities such as dirt, dead cells, oil residue and much more. Using a body scrub is necessary to keep your body stay super clean, hydrated and blemishes-free.
How many times I can use a body scrub?
Ideally, it's advised to use a body scrub once a week. If you are new to body scrubs, you can use them twice a week for a few months. Overusing body scrubs can damage your skin and give a painful experience.
When to use a body scrub, before or after body wash?
After your shower. Make sure you use a body scrub after cleaning your body with a mind soap or body wash. This ensures your skin is clean and ready for exfoliation. Once done, exfoliate your body using a body scrub and nourish your skin.
Should I use moisturizer after body scrub?
Yes, you should always use a moisturizer or lotion after exfoliation. This way you will be able to keep the goodness of body scrub intact resulting in hydrated skin.
Which body scrub should I use?
It's advised to use superfood body wash made of natural ingredients. The goodness of natural ingredients helps to keep your skin nourished, healthy and radiant without any harm. Using chemical-based body scrubs can lead to irritation, redness and dry skin.