Deeply hydrating and calming face toner
Regular price
₹495.00
Sale price
₹159.00
Unit price
per
68% off
Sold out
CLEARANCE SALE
Product Benefits
Hydrates & Soothes the Skin
Deeply Nourishing & pH Balancing
Lightweight & Fast Absorbing
Strengthens Skin Barrier
Alcohol-Free Formulation
Share
Why Use The Powerblend Face Toner
The Powerblend Face Toner is an alcohol-free, lightweight and nourishing concoction for your face. It contains humectants that preserve moisture and help strengthen the skin's natural barrier for better absorption of serums and moisturisers. Its refreshing blend of Chamomile, Aloe Vera, Rose Water, Cucumber, Watermelon and Hyaluronic Acid is gentle and effective for all skin types, especially dry and sensitive skin.
View full details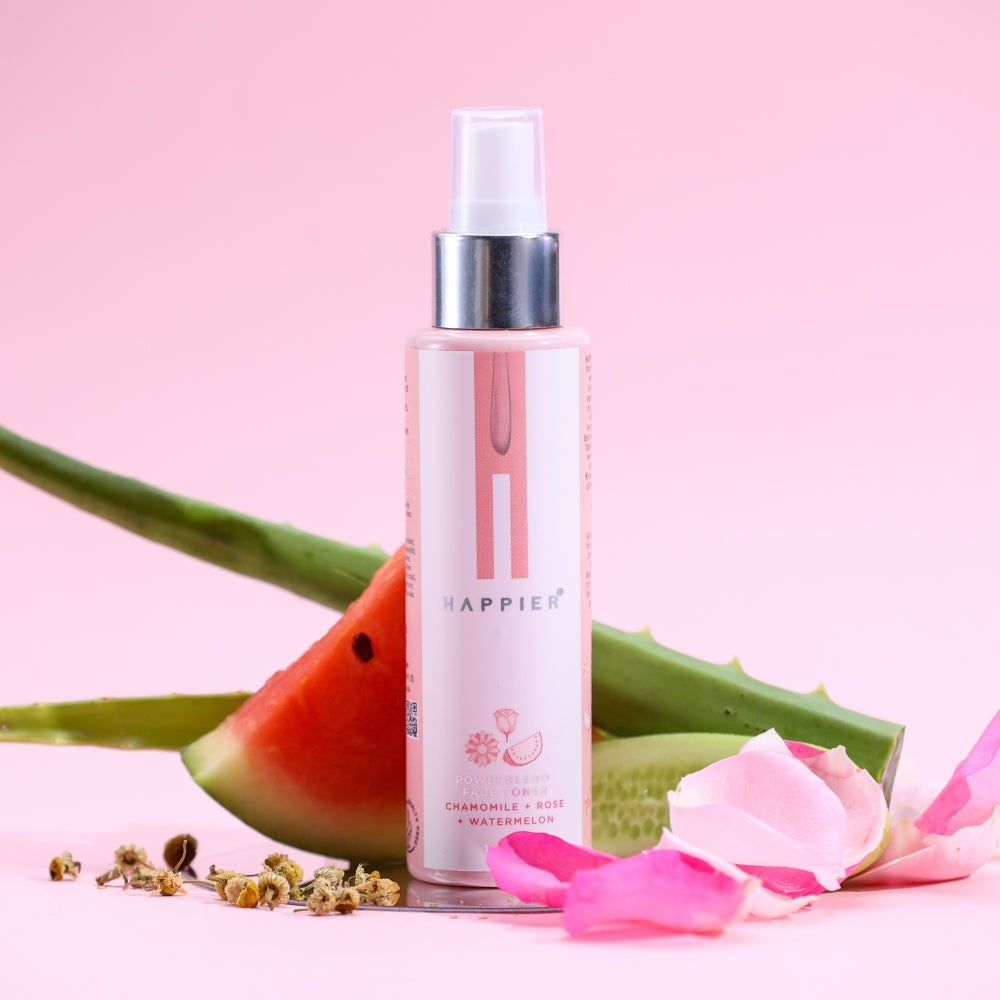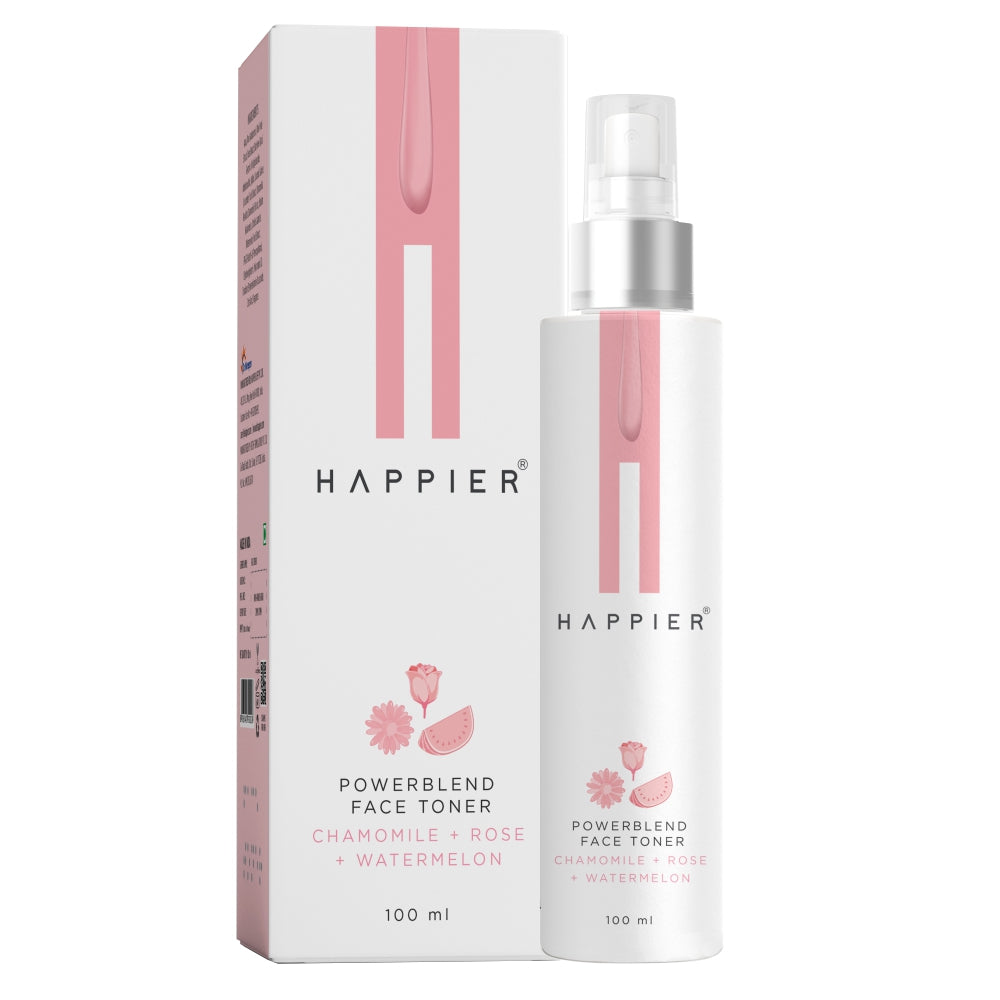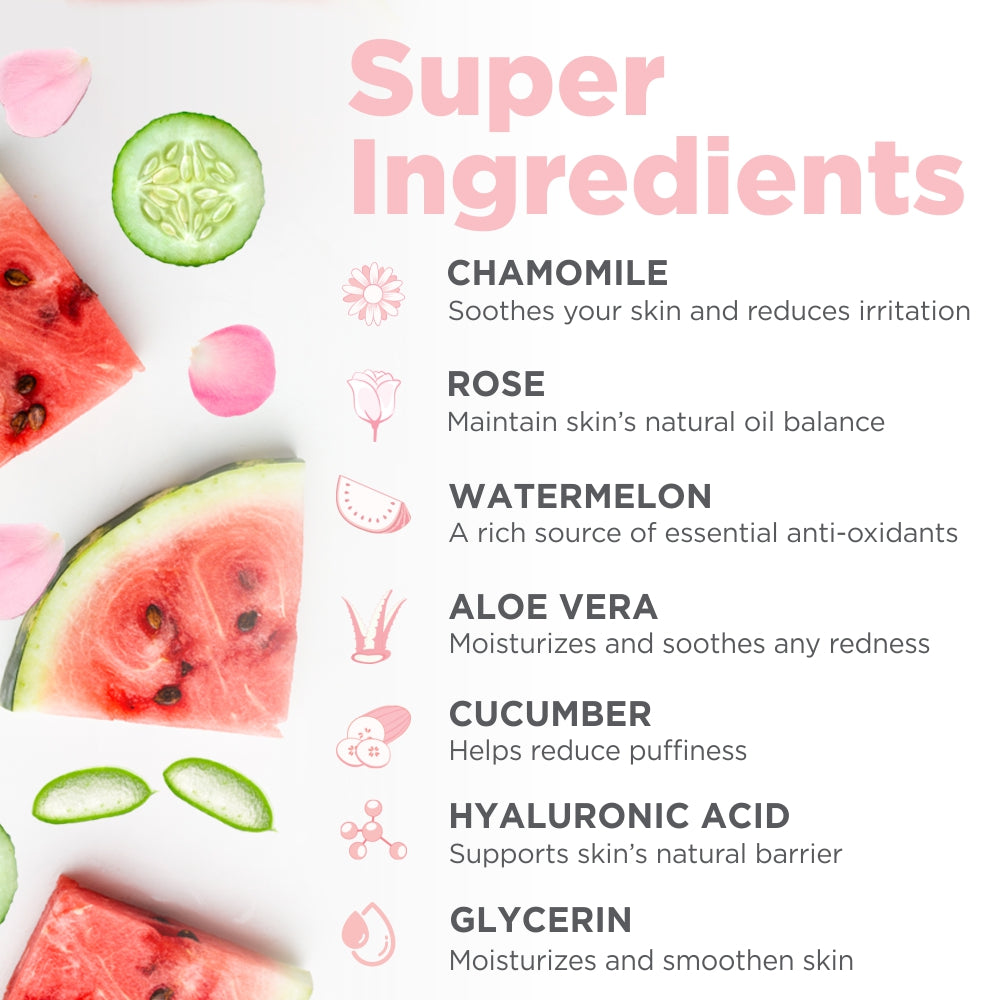 Collapsible content
Superfoods

- Rose
- Watermelon
- Aloe Vera
- Cucumber
- Chamomile
- Hyaluronic Acid
- Glycerin
Full Ingredients

Aqua, Aloe Barbadensis (Aloe Vera) Extract, Rose Extract, Butylene Glycol, Glycerin, Xylitylglucoside, Anhydroxylitol, Xylitol, Cucumis Sativus (Cucumber) Fruit Extract, Chamomilla Recutita (Chamomile) Extract, Sodium Hyaluronate, Citrullus Lanatus (Watermelon) Fruit Extract, PPG-12-Buteth-16, Phenoxyethanol, Ethylhexylglycerin, Polysorbate 20, Trisodium Ethylenediamine Disuccinate, Citric Acid, Fragrance.
How To Use

Use 1-2 pumps after cleansing your face.
Close your eyes and spray it on your face as well as your neck.
Let it absorb for 2 minutes.
For best results, add it to your morning and night skincare routines.
Why Happier is better?

At Happier, we believe in holistic self-care. Our products combine the goodness of natural as well as scientifically backed ingredients to maintain your body's harmony and strike a balance between your inner and outer well-being. Every formulation at Happier amalgamates extensive research and experimentation with carefully sourced natural superfoods for you to embrace a Happier version of yourself!
**Note: Products Under Clearance Sale are not eligible for return and refund.
What Our Expert Says!!!
Your hair is like 90% of your selfie. Thus, investing in your hair is always been a great investment. We all know how essential hair care is to maintain your...

Your hair is like 90% of your selfie. Thus, investing in your hair is always been a great investment. We all know how essential hair care is to maintain your...
More About Product
Best face toner for smooth, clear and hydrated skin
Powerblend Face Toner is the best formula prepared not just to keep away extensive dryness but also to provide much-need nourishment for shining facial skin. This modern product is best suited for sensitive skin that might react with side effects if a toner lacks the right combination of ingredients. This is your ideal toner to remove skin treatments and post-cleansing moisturizer that women generally apply. The toner is an alcohol-free, lightweight, nourishment-rich concoction with humectants that help keep the skin moisturized. It has crucial ingredients such as aloe vera, rose water, chamomile, cucumber, watermelon, and hyaluronic acid that work efficiently on sensitive and dry skins without causing irritation and side effects. You finally get rid of those of your issues related to hydrating and smoothness of the skin. Take daily care of your facial appearance with this toner because it can drench your skin with nourishing elements. It also keeps the pH balance of the skin. It is your tool to naturally protect your skin from getting overdried and makes it stronger to fight toxins. With consistent use, the toner helps your skin to breathe freely and absorb the nutrients for its healthy shine and growth. The superfoods are strategically included as ingredients to provide nourishment and hydration. Each superfood contributes with its health benefits to enrich your skin tone. The toner is particularly for keeping your skin moisturized to the maximum level Give your skin the maximum benefits of face toner. Apply it by first cleansing your face entirely to remove the residue of the previous treatments and the excessive oil for maximum absorption of the toner's nutrients.
Buy face toner at the best price and say bye to dull skin
The face toner is an incredible product that you can bet on for maximum protection of your delicate facial skin and give it refreshing, youthful looks at the time. Its ingredients are superfoods that provide all the natural elements to the skin for its healthy glow. You get nutrients from superfoods cucumber, aloe vera, rose water, watermelon, chamomile, and sodium hyaluronate. Cucumber hydrates the skin due to its high water content. Aloe vera extract has vitamins and helps maintain the pH level of your skin. Rose water has anti-inflammatory benefits besides giving a soothing effect. There is a long list of the nourishing ingredients used to make this face toner best suit all types of skin. All these and many more benefits of the face toner are within your budgetary reach. You can buy many toner bottles, and still, they are affordable if you prefer to purchase them online. You can quickly compare many products for their prices and features. Our prices are competitive and reasonable in keeping with the purchasing power of most users.
Nourish your skin well with Natural Skin Toner
Your tender facial skin gets exposed to a polluted environment, dust, oils, treatments, and makeup that women apply regularly. Consequently, your skin pores get clogged, giving rise to acne and other issues. Natural skin toner is your best solution for holistic care of your skin due to its natural ingredients. The skin toner works wonderfully on your skin due to superfoods included as ingredients. Superfoods such as watermelon, cucumber, and chamomile nourish dry skin with consistent hydration to keep it elastic and firmer. Rose water and aloe vera are other crucial ingredients for making the skin further stronger and younger. Explore this alcohol-free skin toner, an antiseptic to soften your facial fine lines and wrinkles and restore your skin's pH. With its regular use, you will not just keep the skin well hydrated naturally but also remove those unwanted pollutants. It is your natural skin toner with no artificial ingredients such as alcohol, synthetic ingredients, and preservatives used in its preparation. Instead, this toner contains natural ingredients you are already familiar with, such as cucumber and rose water. Also, consider these products:
Brighten your face with eye Cream for dark circles
Are you struggling with dark circles under your eyes? Regular application of eye cream for dark circles can help remove them permanently. You might have those circles due to genetics. This eye cream nourishes the skin, diffuses light, and brightens pigmented areas to get the youthfulness of your face back.
Have a leave-in conditioner for healthier hair
Why have dry hair with detangling strands when you can get the leave-in conditioner? Just use it regularly and treat your dry and frizzy hair. Apply the conditioner to all types of hair, including natural or colour treated and straight or curly. So, get back your bouncy hair and its youthfulness with this conditioner.
Get superfood body wash for refreshing effects
Instead of ordinary soap, wash your delicate skin with a superfood body wash prepared with natural ingredients of green superfoods such as Grapefruit, Acai Berry, White Tea, Aloe Vera, and Shea Butter. These ingredients regularly flood your body's skin with the much-required nutrients that look refreshing and young. It also is an excellent measure to slow down ageing as your skin can lock down the moisture. You can buy all these self-care products online at affordable prices. Compare the products online to find out lower prices.
How to use a Powerblend Face Toner?
You can quickly use this face toner. Here are the steps: 1. After cleaning your face with a cleanser, use just one of two pumps of the face toner. 2. You need to spray the toner on your face and neck. But first, shut your eyes for any irritation from the spray. 3. Let the sprayed liquid remain on your face for two minutes so that your skin can absorb its nutrients. 4. That is all. But ensure that you regularly spray the toner twice in the morning and at bedtime for the best results.
FAQs for Powerblend Face Toner
What will a toner do for my face?
A toner removes dirt and all impurities that can clog your skin pores thoroughly. Daily use of the toner can bring back the tightness of pores to make the skin look younger. Its natural ingredients will provide nourishment without any side effects.
Can I use a toner daily?
You should preferably use the toner twice daily in the morning and before bedtime after removing your makeup for optimum results. But apply the toner first thing after using a face wash.
Can I apply toner without moisturizer?
In case of oily skin, you may skip using the moisturizer since the face toner is a humectant that attracts moisture.
What are the side effects of toner?
Do not worry. Face toners do not usually have any side effects on the skin but make sure your toner is alcohol-free. Also, do not overuse the toner as it may irritate your skin.
Do I have to wash my face after toner?
You can keep the toner, and no need to wash it off your face. But apply it only a few times a week to determine how your skin responds.
How should I choose a toner?
When choosing a face toner, you should consider your skin type. First, know if yours is dry skin, oily skin, or a combination of both. Also, yours may be sensitive to some ingredients. So, consider that when buying a toner that works on your face well. It is always better to pick a hydrating toner.
How do I find out if my toner is working?
Well, you should look for the signs of your skin feeling refreshed and cleansed. You will find that after regular use for one to two weeks, your skin becomes much softer and smoother. It will also look brighter and cleaner.
What if I leave the toner on too long?
Avoid doing that. Leaving the toner for too long may result in lifelessness, flatness, and dullness on your face. Sometimes, it may also be a reason for stripping away your hair's natural pigment.
Will toners shrink pores?
After you cleanse the skin, its pores get tightened so that there is minimum entrance of environmental pollutants and impurities into the skin. So, they shrink pores.
Can toner remove my pimple marks?
Toners prevent skin pores from clogging as they contain impurities and environmental pollutants. Consequently, the chances of acne scars and pimple marks appearing are minimal. Most toners use ingredients such as glycolic acid and salicylic acid for acne prevention.
Why does my toner give a burning sensation?
Applying toner on susceptible or damaged skin areas will result in a burning sensation and irritation. You may also be allergic to some toner formula.
Can toner remove my blackheads?
Toners work as a preventive measure by keeping pollutants and impurities away from the skin. If you have a few random blackheads, the toner can take care of them. But you need to get treatment from an expert if they are in excess.