Brightening, nourishing, anti-ageing eye cream
Regular price
₹1,250.00
Sale price
₹812.50
Unit price
per
35% off
Sold out
Product Highlights
Brightens and Lightens Under Eye Area

Reduces Dark Circles, Fine Lines & Wrinkles

Lightweight & Fast Absorbing

Nourishes, Tightens & Firms the Skin

Boosts Skin Elasticity
Share
Why Use Powerblend Eye Cream
A potent formula enriched with power packed super ingredients that help reduce signs of ageing, wrinkles, and crow feet. Anti-oxidant rich Coffee Seed and Ginseng Root Extracts reduce dark circles and increase skin elasticity. Quinoa and Beet Root Extracts provide intense hydration and nourishes the delicate under eye area. Regular usage delivers firmer and younger eye area..
View full details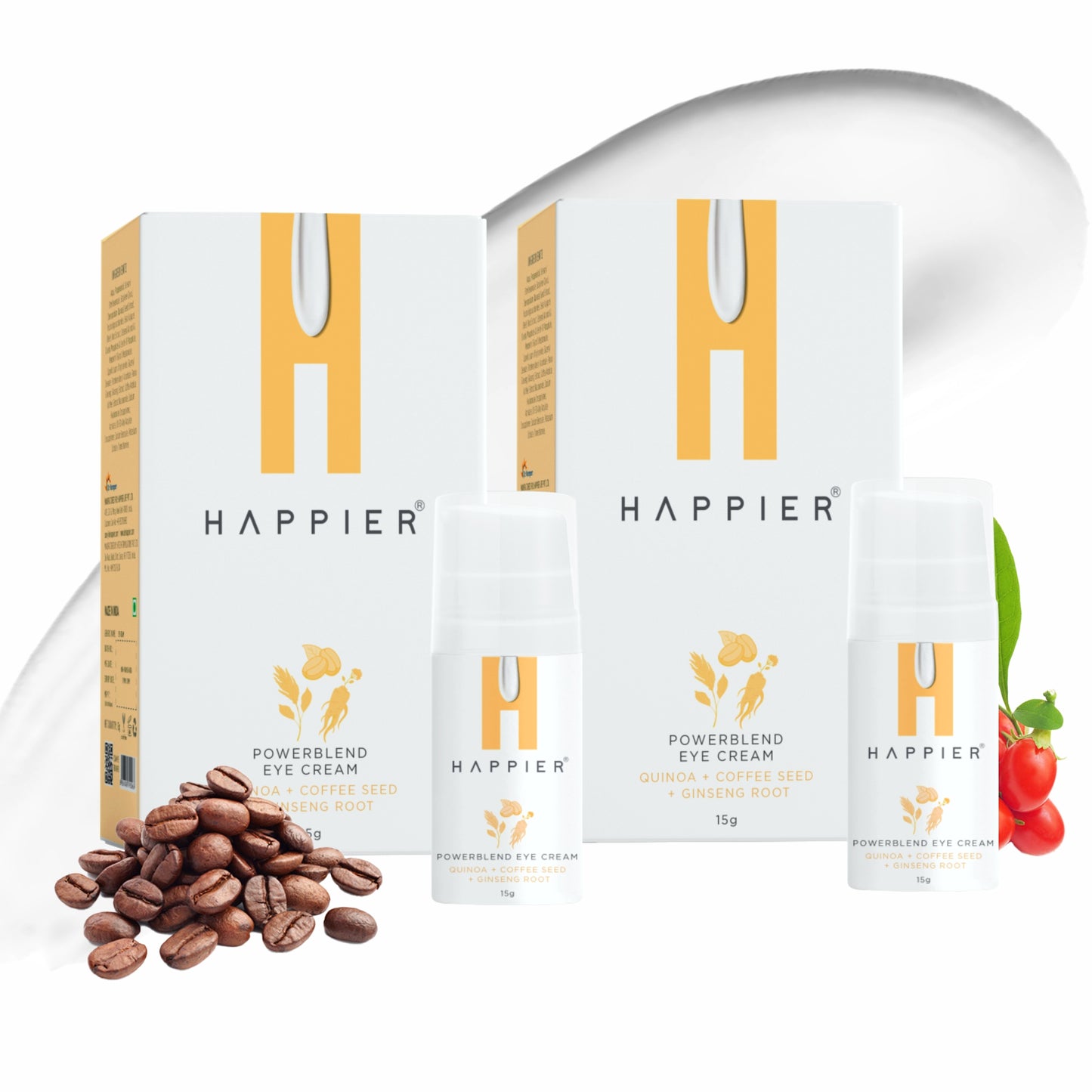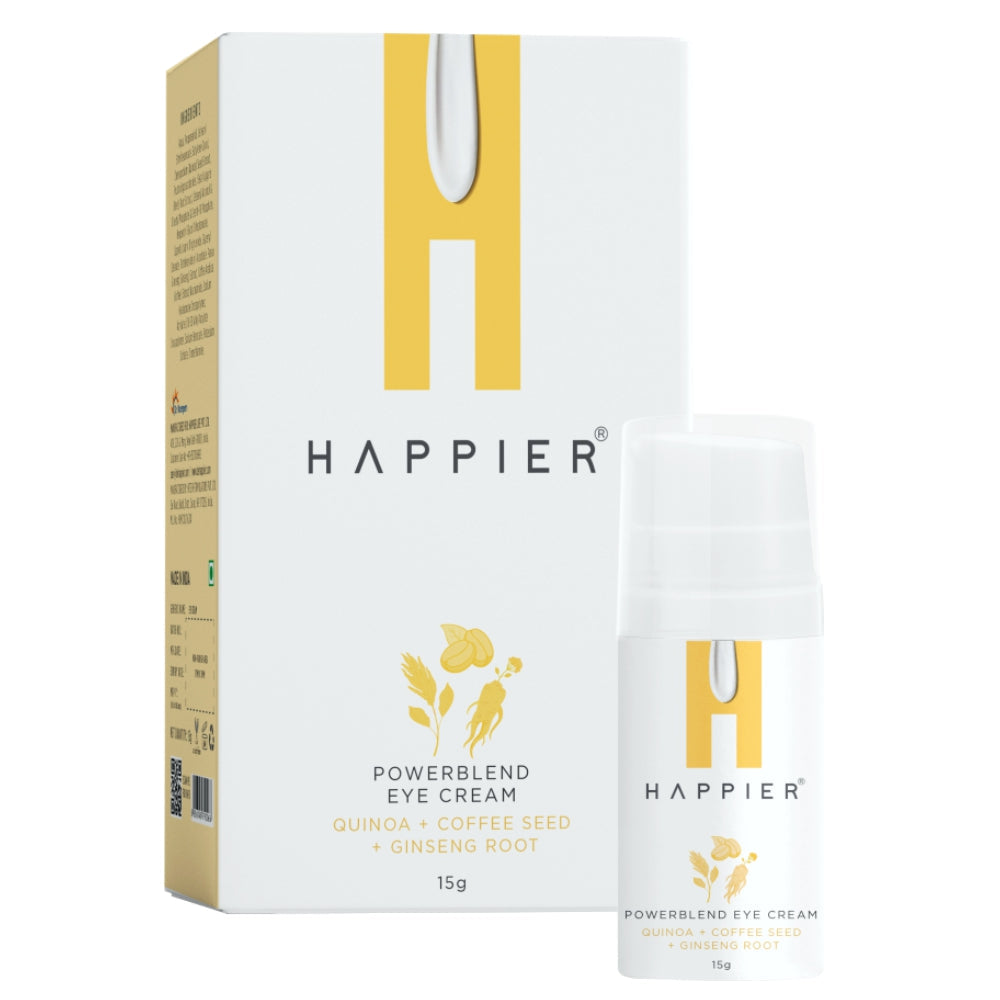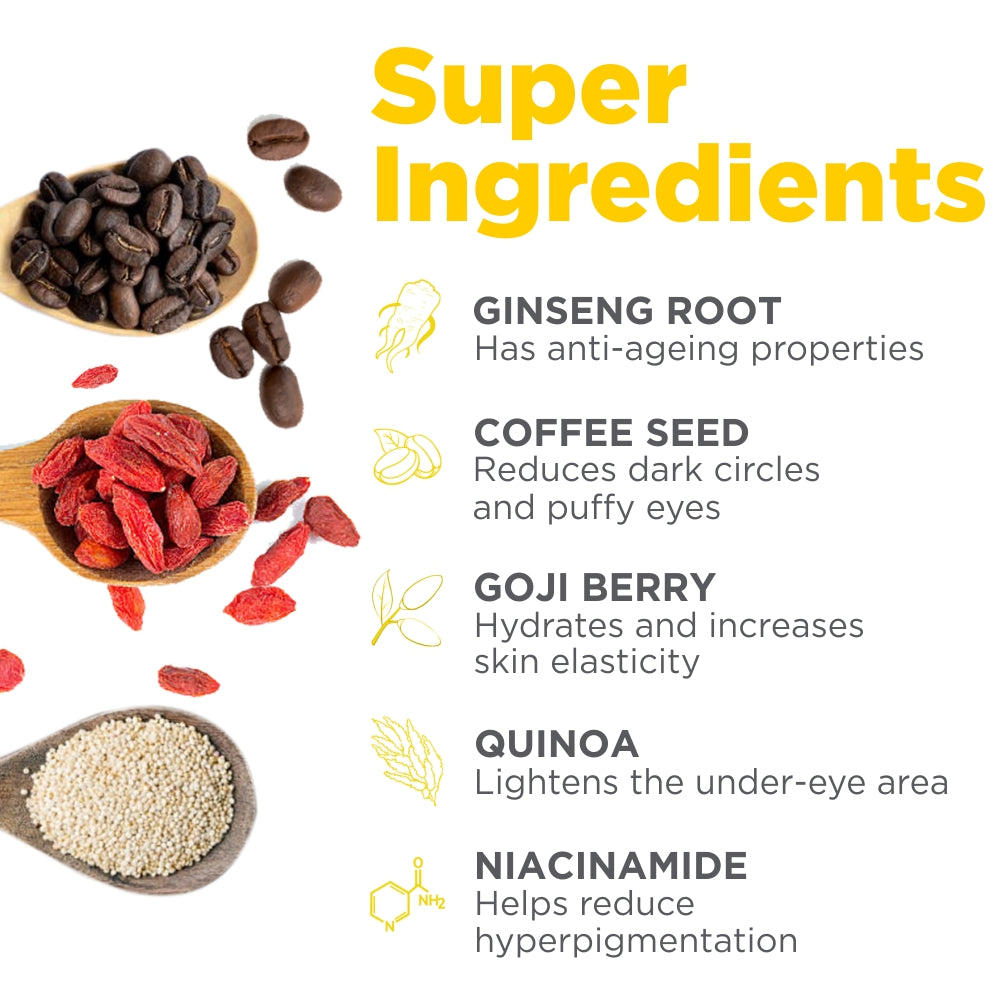 Collapsible content
Superfoods

Niacinamide
Hyaluronic Acid
Ginseng Root
Coffee Seed
Beet Root
Goji Berry
Quinoa
Full Ingredients

Aqua, Propanediol, Cetearyl Ethylhexanoate, Butylene Glycol, Chenopodium (Quinoa) Seed Extract, Fructooligosaccharides, Beta Vulgaris (Beet) Root Extract, Cetearyl Alcohol & Dicetyl Phosphate & Ceteth-10 Phosphate, Neopentyl Glycol Diheptanoate, Caprylic/Capric Triglyceride, Glyceryl Stearate, Tetrahexyldecyl Ascorbate, Panax Ginseng (Ginseng) Extract, Coffea Arabica (Coffee) Extract, Niacinamide, Sodium Hyaluronate Crosspolymer, Acrylates/C10-30 Alkyl Acrylate Crosspolymer, Sodium Benzoate, Potassium Sorbate, Tromethamine.
How To Use

Before first use, pump 4-5 times to remove excess hair in the pump.
Take 1 pump (pea-sized amount) and apply it on the under eye area.
Massage it gently with the ring finger.
For best results, use it twice a day.
Why Happier is better?

At Happier, we believe in holistic self-care. Our products combine the goodness of natural as well as scientifically backed ingredients to maintain your body's harmony and strike a balance between your inner and outer well-being. Every formulation at Happier amalgamates extensive research and experimentation with carefully sourced natural superfoods for you to embrace a Happier version of yourself!
What Our Expert Says!!!
Your hair is like 90% of your selfie. Thus, investing in your hair is always been a great investment. We all know how essential hair care is to maintain your...

Your hair is like 90% of your selfie. Thus, investing in your hair is always been a great investment. We all know how essential hair care is to maintain your...
More About Product
Say bye to dark circles - Best eye cream for dark circles and puffy eyes
Dark circles under an eye can be caused due to many reasons like working late nights, watching your favourite Netflix series the whole night or even not taking the right nutrients in your diet. You may not realise but dark circles are somehow indicators of our lifestyle. Even if you follow the perfect lifestyle, it shows signs. Then, what to do? At this point, an eye cream comes to your rescue.
The lightweight and fast-absorbing cream has antioxidant-rich ingredients that are potent tools in combating the adverse conditions that give your skin a tired look. Its coffee seed and ginseng root extracts are the ingredients that nourish the skin under your eyes and ultimately remove those dark circles. Its regular use makes your skin elastic. Other ingredients used in making the cream are Quinoa and Beet Root Extract. These extracts hydrate your skin consistently to make it softer and young under your eye. With the area under the eye hydrated consistently due to regular use of the cream, it becomes firmer and looks younger.
A pea-size drop of the cream pumped from the bottle is sufficient to treat dark circles. Apply that much cream under your eyes and gently massage the skin with a ring finger to eliminate those dark circles. For the desired results, apply the cream twice a day. Due to consistent nourishment, your facial skin gets hydrated, erasing dark circles under your eyes, and making it look healthy.
Budget-friendly eye cream for puffy eyes
Leading a busy life, working late at night, partying on weekends, bad sleeping habits, and other such causes could be behind your puffy eyes. The cream has anti-ageing properties and ingredients to nurture the skin back and helps flatten the eye bags. It has ingredients that target the affected skin area with nourishing elements. You can quickly buy beauty products online, including this eye cream, at an affordable price when compared to the prices in physical shops.
The cream has Ginseng Root with anti-inflammatory and anti-bacterial properties that work well to reduce puffiness under the eyes. Its antioxidant property is crucial to producing skin collagen that brings the skin area back to its former shape. Coffee seed is another ingredient that gives the cream the extra strength to eliminate puffiness and dark circles. Goji Berry used in the cream helps your face skin to produce collagen and elastin and reduces oxidative stress. Another helpful ingredient in the creme is Quinoa which is rich in Vitamin A and Vitamin B2, responsible for removing the dark melanin deposit around your eyes and puffiness.
Apply the cream to the puffy area under your eyes for a few weeks regularly. Massage the skin with the cream twice daily to get the best results. But rub the cream with a tender touch of your finger under the eyes to flatten those bags.
Reduce fine lines using the best eye cream for wrinkles
Those fine lines and wrinkles at your eyes' outer corners, make you look much older than your age. You get wrinkles due to a stressful lifestyle and lack of nutrients necessary for healthy skin. But, this eye cream for wrinkles is your best bet to eliminate wrinkles and reclaim your radiating face permanently.
The cream nourishes the affected skin area with its ingredients that have anti-ageing properties. It has vital nourishing components, including Ginseng Root and Goji Berry, the two most effective ingredients responsible for producing collagen in the skin. As the skin regains its ability to produce collagen, it starts tightening, giving it a firmer look. It also helps the skin produce elastin, which makes skin smoother and flexible. Both these properties are crucial in giving facial skin a younger look also as the cream works to reduce oxidative stress.
Routine use of eye cream helps light up your face. The cream works nicely on your smoother skin and polishes it. With regular use, your facial skin starts absorbing the much-needed nourishing ingredients. These ingredients supply the nutrients to the skin cells to bring back the healthy glow on your face.
How to best apply Happier Powerblend Eye Cream?
Take these steps while applying eye cream.
Pump a pea-sized drop of the cream from the bottle. Avoid using a lot of eye cream, or it may irritate by entering your eyes.

Put small dots of the cream under your eyes, starting from the inner corner to the outward. Do not apply the cream closer to your eyelashes.
For tapping the cream on the skin and massaging, use your ring finger, the weakest finger, so that you do not put extra pressure on the tender skin. Gently massage the area to improve circulation and decrease puffiness.
Let the skin fully absorb cream for 2 minutes
Apply makeup or any other skincare products if you want to.
A precaution:
It would be good to apply light formulas such as eye cream before applying heavier ones such as moisturizers and sunscreen for the day.
You may also like :
Buy dermatologist-recommended sunscreen lotion
A sunscreen lotion is a skincare staple since it helps reduce dark circles and fine lines and prevents dreaded diseases like skin cancer. While there are plenty of skincare products, buy dermatologist-recommend sunscreen lotion that protects your skin against the harmful sun's UV rays. It must also be non-greasy to avoid clogging of skin pores.
Such a lotion can also contain shea butter, aloe, and glycerin to moisturize the skin. The cream with antioxidant properties will protect your skin from free radical damage. It should feel light on your body, especially your face.
Take plant-based protein powder as your healthier option
Plant-based protein powder contains many different nutrients, including vitamins, omega -3 fatty acids, antioxidants, and vitamins. Those with a dairy allergy can enjoy plant protein for easy digestion, making it an ideal supplement for vegans and vegetarians. It is an excellent replacement for milk protein supplements such as casein and whey powder. Choose a power that contains several types of plant protein.
Nourish your face with superfood enriched face cleanser
Superfood enriched face cleanser is the green juice cleanser to remove makeup. It is a hydrating gel cleanser also to get rid of dirt and oil and doubles up as a remedy to prevent clogging of your skin pores and balance your pH.
The cleanser provides anti-acne benefits, so you do not struggle with blemishes and signs of breakouts. You get the benefits of cold-pressed antioxidants without irritating and drying your skin. What is more, it works equally well on all skin types. Consider buying such self-care products online at affordable prices.
FAQs for Powerblend Eye Cream
What use is eye cream to me?
Eye cream helps your skin to produce collagen, a structural protein that keeps skin firmer so that there are no fine lines, wrinkles, dark circles, and puffiness on your face, making you look younger.
What is the right age to use eye cream?
Start using eye cream as early as possible and not when you first see wrinkles on your face. The cream will be more effective if you use it in your 20s as your way to prevent the root cause of fine lines and wrinkles.
Is the use of Vaseline as an eye cream OK?
It is not advisable to do as Vaseline may blur your vision if it is applied to the eye, and it may also prevent absorption of some nutrients of certain creams and treatments. So, apply eye cream first before applying Vaseline or any other moisturizers.
How often should I use eye cream?
Experts advise people to use eye cream twice daily to get the desired results. But make sure that your eye cream has the right combination of ingredients.
What ingredients should be there in an eye creme?
When buying an eye cream, please read the label and ensure that it contains the necessary ingredients to treat your skin under the eyes for dark circles, fine lines and wrinkles, and puffiness.
What should I put first, eye cream or moisturizer ?
Put eye cream first so that the skin can absorb its nutrients quickly. Putting moisturizer first will clog the skin pores to prevent eye cream's nutrients. So, apply eye cream before putting moisturizer and sunscreen on for the day.
Is it right to use too much eye cream?
No. This is because too much eye cream will also clog your skin pores, mainly when you do not cleanse or exfoliate correctly. As a result, pores will have a build-up of keratin that causes milia.
Can I use eye cream at night?
Yes. It would be best if you prefer to use eye cream twice daily. First in the morning, when you get up, before facing the daylight, and then at bedtime.