Provides gentle exfoliation and brightens the skin
Regular price
₹1,190.00
Sale price
₹349.00
Unit price
per
71% off
Sold out
CLEARANCE SALE
Product Highlights
Gently exfoliate your skin
Reduces pigmentation and blemishes.
Apt for sensitive skin and skincare issue
Suitable for all skin types
Share
Why Use Powerblend Exfoliating Mask
A Unique blend of natural ingredients with the goodness of antioxidants and nutrients which gently exfoliate the skin and leave it hydrated as well as moisturized. The natural face mask is perfect for all skin types, especially sensitive ones.
View full details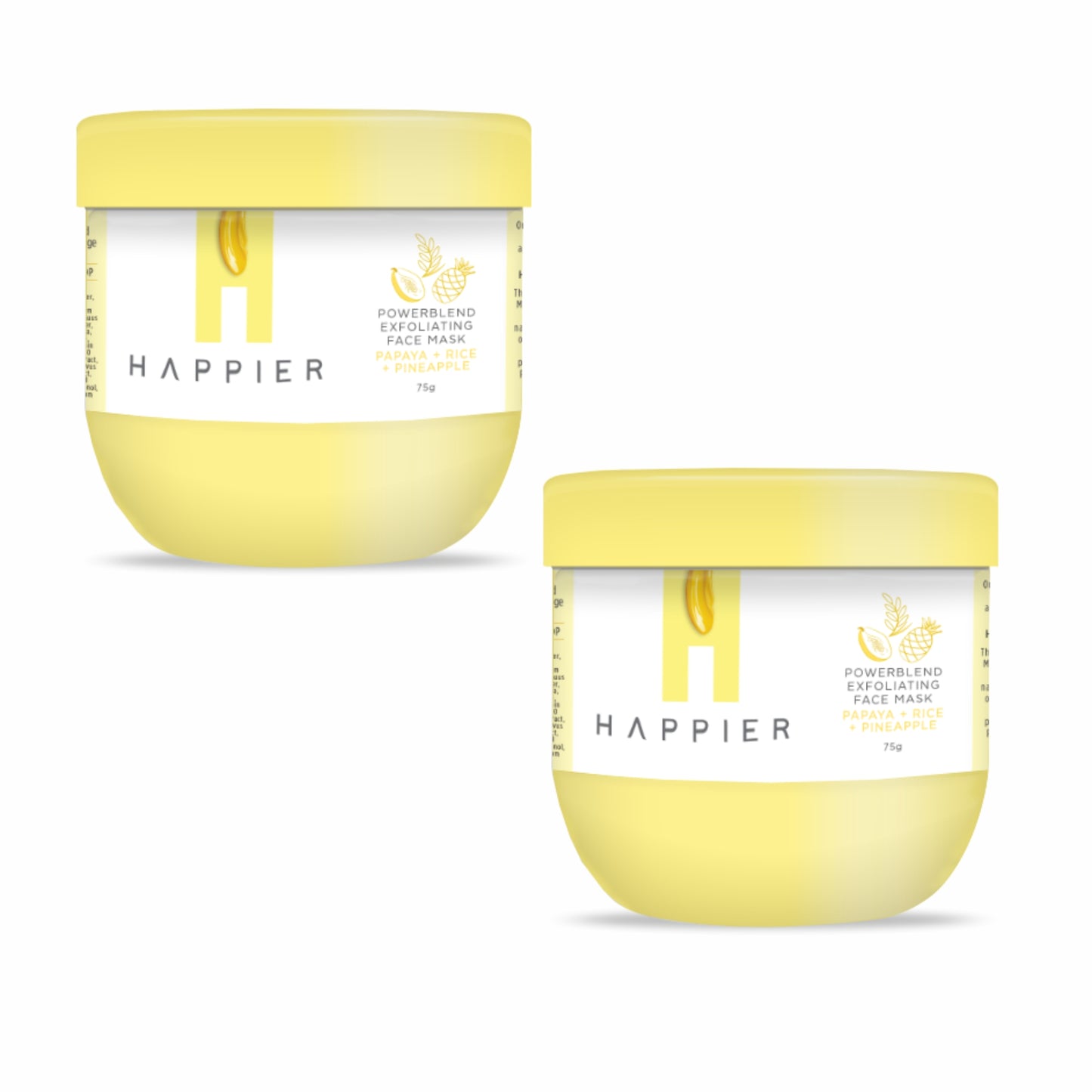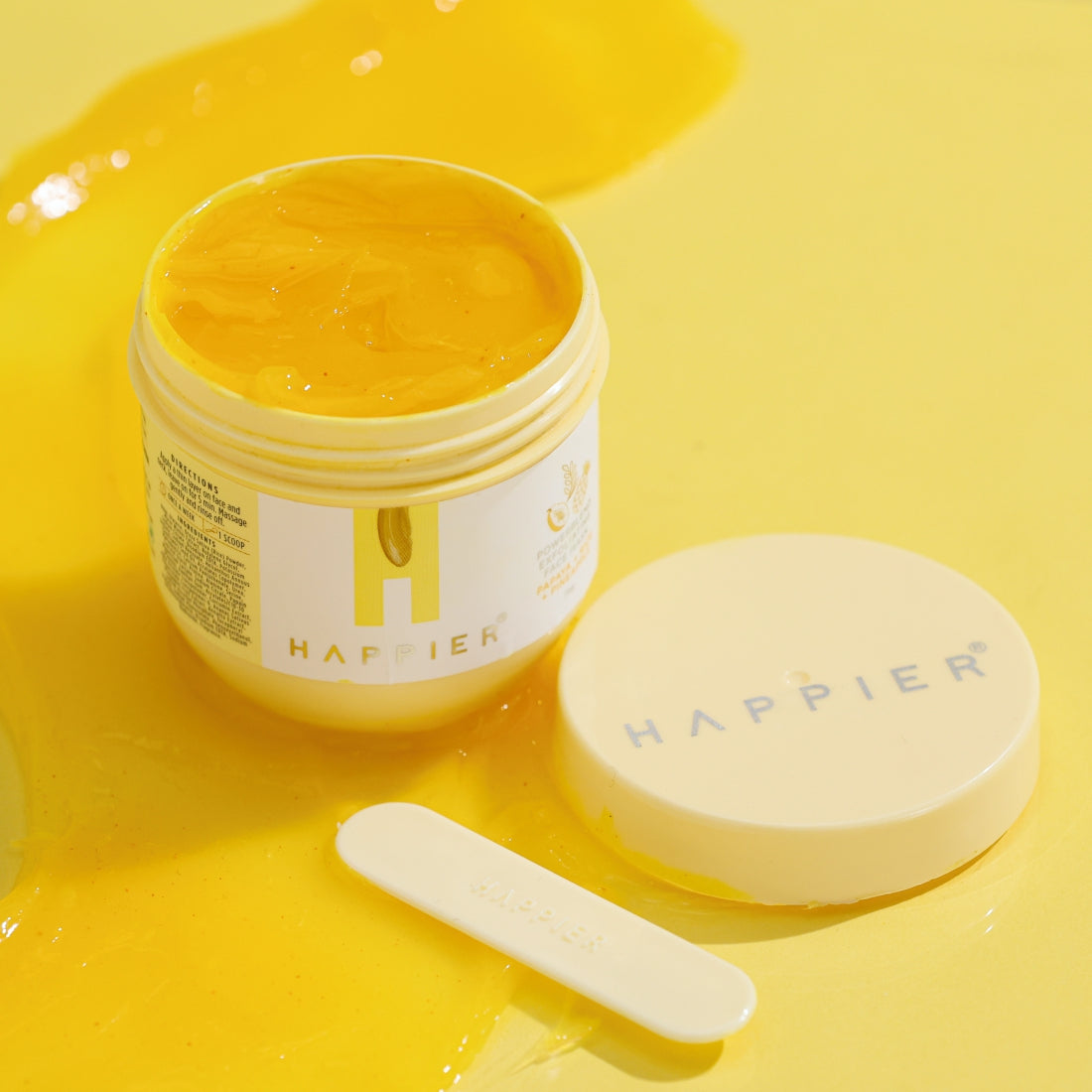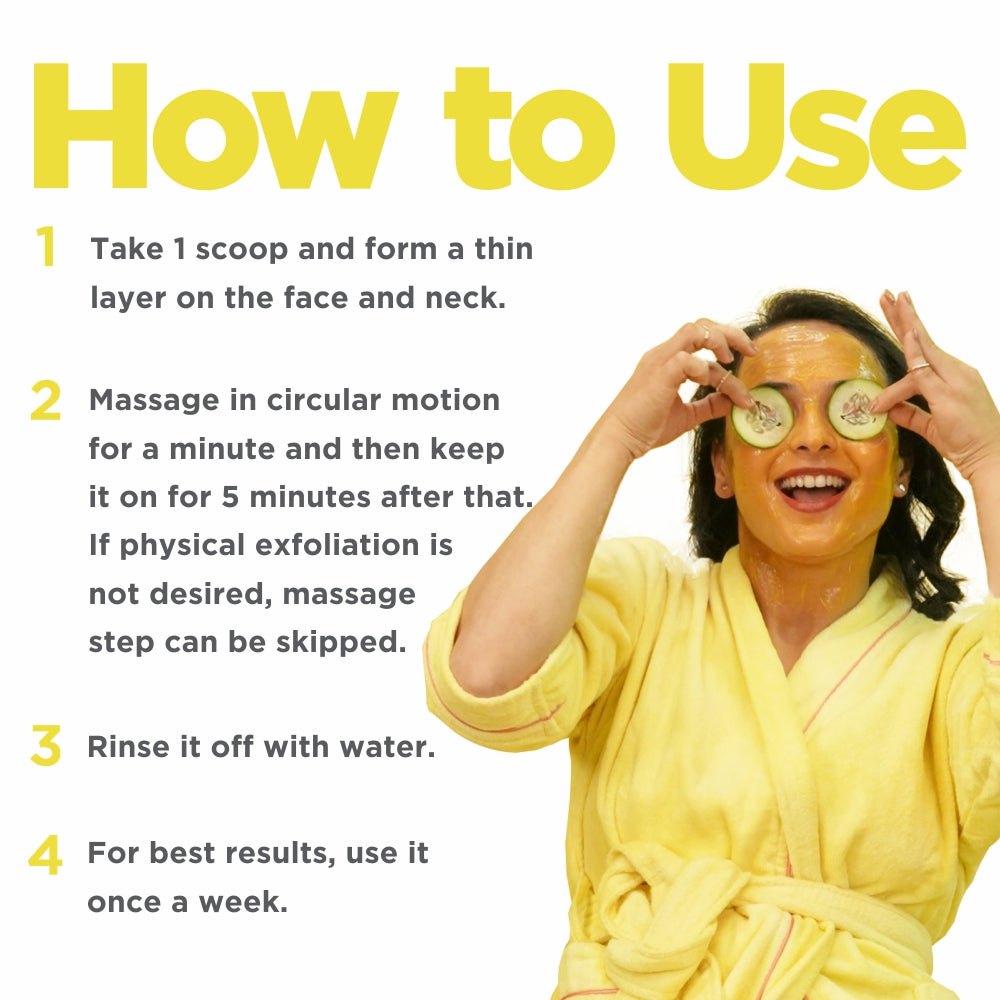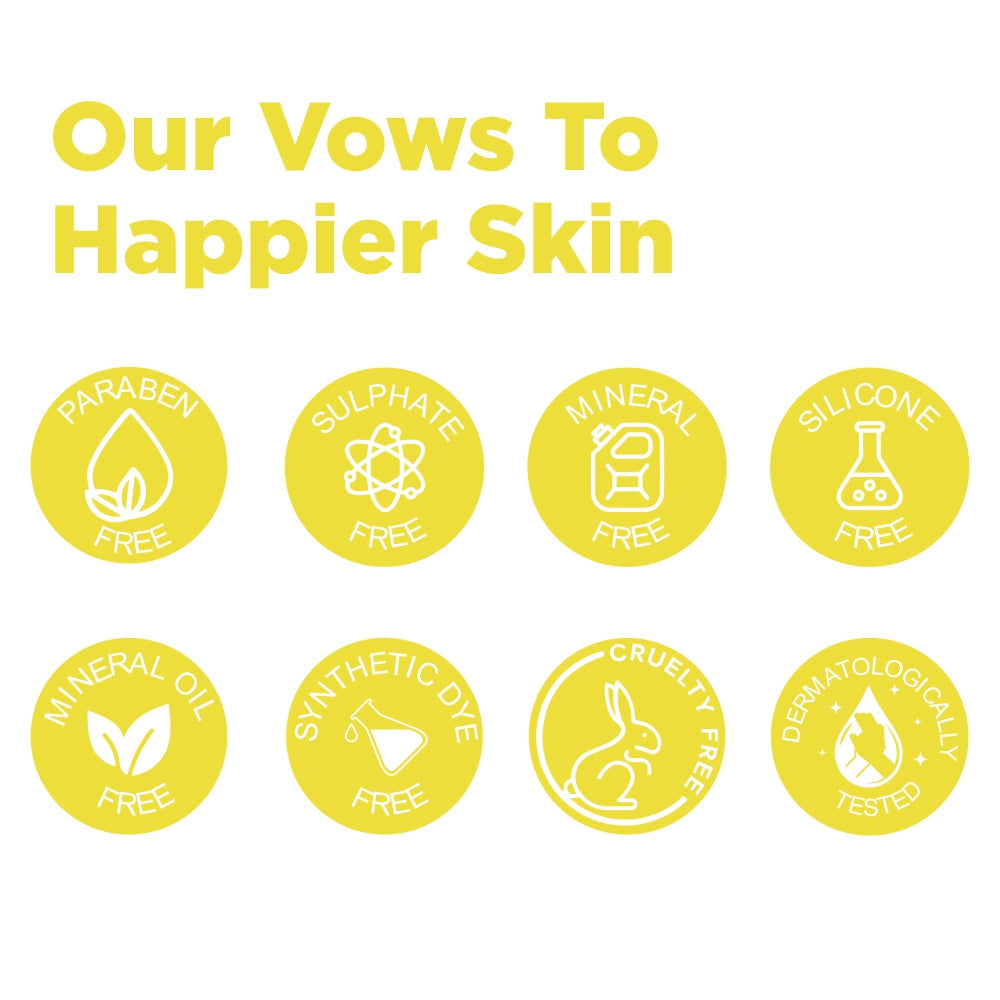 Collapsible content
Full Ingredients

Rice, Papaya, Sunflower, Pineapple
How To Use

Take 1 scoop and form a thin layer on the face and neck.
Keep it for 5 minutes and then massage for 1 minute.
Rinse it off with water.
For best results, use it once a week.
Why Happier is better?

At Happier, we believe in holistic self-care. Our products combine the goodness of natural as well as scientifically backed ingredients to maintain your body's harmony and strike a balance between your inner and outer well-being. Every formulation at Happier amalgamates extensive research and experimentation with carefully sourced natural superfoods for you to embrace a Happier version of yourself!
**Note: Products Under Clearance Sale are not eligible for return and refund.
What Our Expert Says!!!
Your hair is like 90% of your selfie. Thus, investing in your hair is always been a great investment. We all know how essential hair care is to maintain your...

Your hair is like 90% of your selfie. Thus, investing in your hair is always been a great investment. We all know how essential hair care is to maintain your...
More About Product
Best exfoliating mask for clear, smooth skin
A gentle exfoliation a few times a week is vital for healthy skin. There are many ways to take special care of your facial skin. You can find several skincare products on the market. However, nothing you put on your face is going to work unless you exfoliate. Using an exfoliating mask is necessary if you want to have healthy, glowing skin. A Powerblend Exfoliating Mask is a unique blend of natural ingredients with the goodness of nutrients and anti-oxidants that exfoliate your skin and make it hydrated. This exfoliating mask moisturizes your skin, unclogs your pores and gives you a healthy glow. It's the best exfoliating mask for all skin types - dry, oily, normal, combination or sensitive.
The exfoliating face mask plays a key role in laying the foundation of any effective skincare routine. No matter how stressed, tired and dehydrated your skin is, your beloved exfoliating mask will do everything to refresh your skin by giving it a healthy glow. And do you know, skin exfoliation is not limited to your face? Yes, your whole body needs regular exfoliation. Exfoliating masks are a great way to remove dead skin and brighten up a dull complexion with necessary hydration.
You should exfoliate at least twice a week to get rid of dead skin cells, fine lines, unclog your pores, pigmentation from acne scars, fade age spots and maximize the absorption of other skincare products for better results.
Buy the exclusive hydrating exfoliating mask at low prices
or
Buy the best hydrating exfoliating mask online in India
Cleansing your skin might get you rid of dirt and oil, but it doesn't necessarily mean that it would deeply clean your skin and unclogs your pores. Your skin needs more than that. Yes, it needs a facial rejuvenator to unclog your pores. It requires the easiest way to cleanse and hydrate your skin. It can be achieved by using an exfoliating mask regularly. The hydrating exfoliating mask traps the necessary moisture or ingredient in the skin and creates a protective layer that helps to cleanse, exfoliate, hydrate or moisturize your skin.
Exfoliating face masks offer all the necessary benefits of face scrub and mask without damaging or hurting your precious skin. Irrespective of your skin type, once you apply the exfoliating mask on your skin, let it dry as prescribed and meanwhile, its natural and anti-oxidant ingredients start to work to exfoliate, draw out any buildup of oil, dirt or dead skin and hydrate your skin like never before. The Powerblend Exfoliating Mask is an ideal combination of natural ingredients such as Lavender, Rose, Chamomile, Olive, and more that treat all skin concerns irrespective of skin type. The best part is that it's cost-effective. Thus, you can buy exfoliating mask online in India at affordable prices.
Best exfoliating face mask for all skin types
Choosing the ideal exfoliating mask for the correct skin type is pretty hard. Many times, you end up buying the wrong product against your skin type and requirement. Buying the right exfoliating face masks can facilitate incredibly super healthy, hydrated and happier skin. The exfoliating face mask is like an intensive treatment for your skin that you can do anytime, any place, even at home. However, different skin has different skin issues and to treat them, you should look for the correct face mask suiting your skin type. Once you go for the Powerblend Exfoliating Face Mask, you won't need to worry about it. It's an amalgam of natural ingredients that provides exfoliation and nourishment to all skin types.
Whether you have dry, sensitive, normal, oil or combination skin, this exfoliating mask is a perfect choice for all skin types. It offers the necessary benefits of an exfoliator and face mask to give you smooth, clean and healthy skin. It deeply cleanses your pores, improves the texture of your skin, removes dead skin cells and minimizes the appearance of fine lines by maintaining skin elasticity irrespective of the skin type. Its antioxidants and natural ingredients such as Olive, Rose, Lavender, Chamomile, etc. treat your skin issues and give you the ultimate glowing skin that you have ever dreamed of. If you are still worrying about what to try and looking for the best exfoliating mask for oily skin or the best exfoliating mask for sensitive skin, stop your research and buy the best exfoliating mask for all skin types.
Keep your skin radiant by using the best exfoliating face mask at home
Masking is an essential part of most skin care routines that can't be ignored. A lot of people avoid this step which can spoil your whole skincare routine. If you wish to have the clean, nourished and hydrating skin of your dreams, then it's best to have an exfoliating mask at home. It will make your skincare process easy and reliable.
Using the exfoliating mask twice a week will remove your dull and dead skin cells. While sitting at home, you can avail yourself of the necessary benefits of an exfoliating mask that improves the texture of your skin in just minutes. With the goodness of natural ingredients, you can deeply exfoliate your skin without hurting your skin and maintain its elasticity. Its regular will cleanse your skin and minimizes the appearance of fine lines, giving you a radiant glow at home without much effort.
Benefits of using an Exfoliating Face Mask
It's a perfect shortcut to get radiant, glowing skin in minutes. Using an exfoliating mask will deeply cleanse your skin and help you to get rid of oil, dirt and other unwanted residues.

Using an exfoliating mask helps to moisturize your skin while exfoliating. How? It removes the dead skin cells and dirt from your skin and helps moisturizers to get absorbed into your skin without any effort. In simple words, if your skin has a layer of dead skin, it will block moisturizer to get its work done.

It prepares your skin for flawless makeup. You read it right! Most makeup artists prefer to exfoliate your skin before doing any makeup. Why? Because exfoliating mask even out your skin tone and helps your makeup go on smoothly as possible.

Exfoliating masks help unclog your skin pores and draw out impurities. During the skincare process, cleansers can only go deep in terms of getting the dirt or gunk out of your skin, however, exfoliating mask work to decongest pores. Hence, it gives a deeper action than any other skincare product. Use the best exfoliating mask for clogged pores.

By removing dull or dead skin cells, exfoliating mask stimulates the blood flow giving your skin a youthful appearance. Hence, it acts as the best anti-aging product to go for.

It promotes smooth skin and helps you get rid of uneven texture. In short, it gives you smooth, radiant and healthy skin.

The best benefit of using the exfoliating mask is that it's not limited to face skin. Just like your face, the skin of other body parts also requires exfoliation to get smoother skin. Hence, exfoliating mask prepares the skin on your body for makeup or moisturization.
How to use the exfoliating mask?
Clean your face and neck using a mild cleanser and wash it off with warm water.

Take one scoop and form a thin layer on your face and neck. Make sure to involve your neck in the process too. Ignoring your neck can give an unmatched skin tone vibe between your face and neck. Avoid that.

Massage in a circular motion for a minute and then keep it for 5 minutes until it gets a little dry.

After 5 minutes, start scrubbing your face and neck gently in a circular motion.

Once done, rinse it off with water.

Use a fresh, dry towel to clean your face. Once done, you are all set to apply moisturizer or makeup.
Note: Ideally it's advised to use it at least once a week. For better results, we recommend you use the exfoliating mask twice a week.
You May Also Like:
Buy Face Cleanser for super clear, smooth skin
Getting flawless skin is easy now! Forget worrying about trying several products just to clean your face. Try Happier's Multigreens Face Cleanser enriched with natural ingredients to get clean, smooth and healthy skin. Buy face cleanser today!
Non-toxic Sunscreen for your beautiful skin
While shielding your skin from the harsh sun, ensure that the sunscreen has no toxic ingredients so that you can use it regularly. So, look for non-toxic sunscreen that shields you from UVA & UVB rays and is also light and non-greasy.
Hair Scrub for Healthy hair
Your scalp should always be clear of any buildup of impurities such as dirt and oil so that it helps grow healthy hair. Hair scrub for healthy hair is your solution to reduce dandruff, remove dead skin and scalp buildup and itchiness, and prevent dry & flaky scalp.
FAQs
How often should I use an exfoliating mask?
As long as your skin can handle it. We advise using the exfoliating mask twice or thrice a week for better results. Using daily can create some tension in your skin. It's better to use it twice or thrice a week.
What does exfoliating mask do?
Exfoliating masks help in removing dead skin cells, cleansing your skin and enhancing its natural glow. Using an exfoliating mask on regular basis even tones your skin and makes it super healthy and radiant.
Does exfoliating lighten your skin?
Besides removing dead skin cells, dirt, oil or unwanted residues, exfoliating masks remove blemishes and even your skin making it light and radiant. Thus, yes, it will help to lighten your skin at a quicker rate.
What to do after using the exfoliating mask?
Once you get done using an exfoliating mask and washing it off with water, apply moisturizer. If you are doing it during the day time, then after moisturizer, apply sunscreen too. Otherwise, at night, only moisturizer is enough.
Do I need to wash my face before using the exfoliating mask?
Yes, you should first wash your face using a mild cleanser to clean the dirt, oil and other residues. This process will help the exfoliating mask to deeply cleanse and exfoliate your skin. The process will become more effective.
How does the skin look after using an exfoliating mask?
It looks super smooth, clean and youthful. Once you use the exfoliating mask, you remove the dead skin cells, and all kinds of unwanted residues such as oil, dirt, bacteria, etc. that clog your skin. Once your skin gets rid of these, it looks super radiant like a newborn baby.