Gentle, soothing and non-stripping cleanser
Regular price
₹850.00
Sale price
₹299.00
Unit price
per
65% off
Sold out
CLEARANCE SALE
Product Highlights
Gentle, Calming and Soothing

Removes all Dirt & Grime

Effective at Removing Makeup

Hydrating and Nourishing

Leaves Skin Supple & Clean



Share
Why Use Multigreens Face Cleanser
The Multigreens Face Cleanser is formulated to make cleansing effective and refreshing. A nourishing blend of antioxidant greens that leaves your skin squeaky clean without stripping off its natural oils or overdrying.This cleanser also locks in moisture and leaves the skin soft and supple. Packed with nourishing ingredients such as Aloe Vera, Cucumber, Green Tea, Kale, Green Apple, Glycerin, Allantoin.
View full details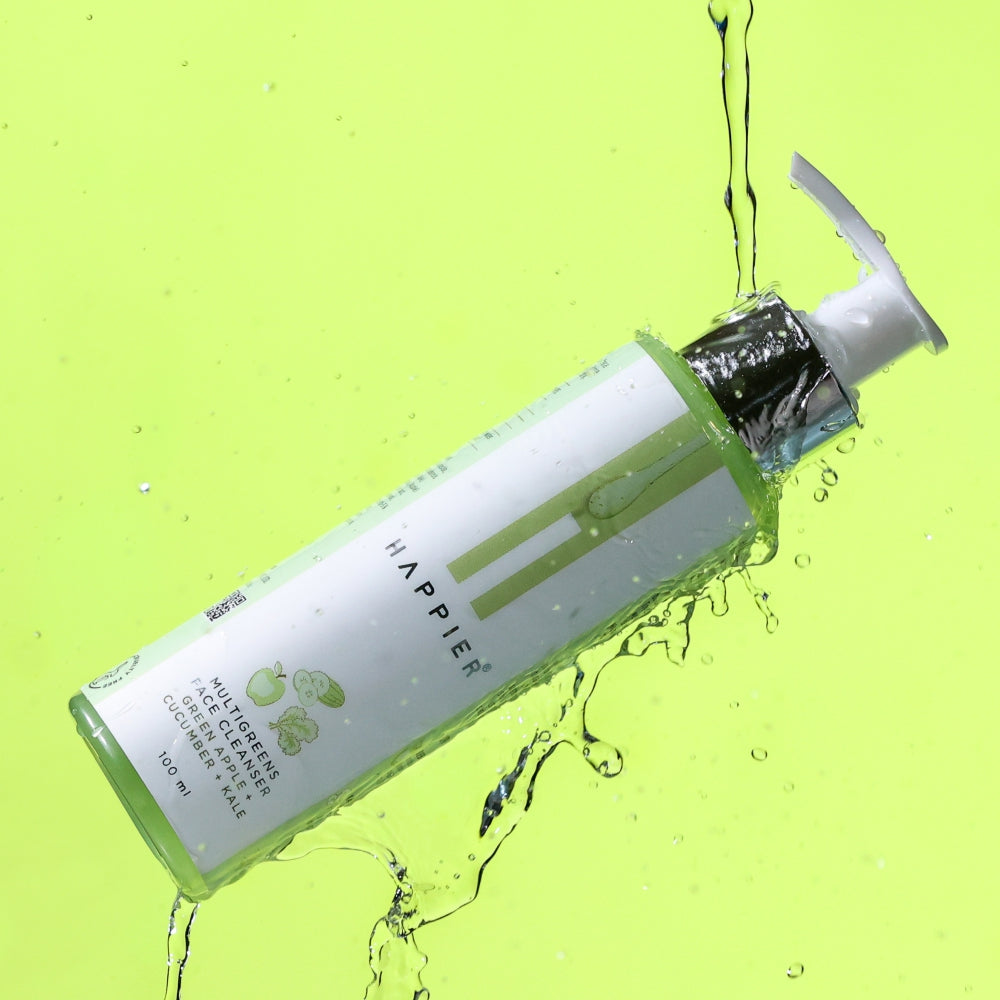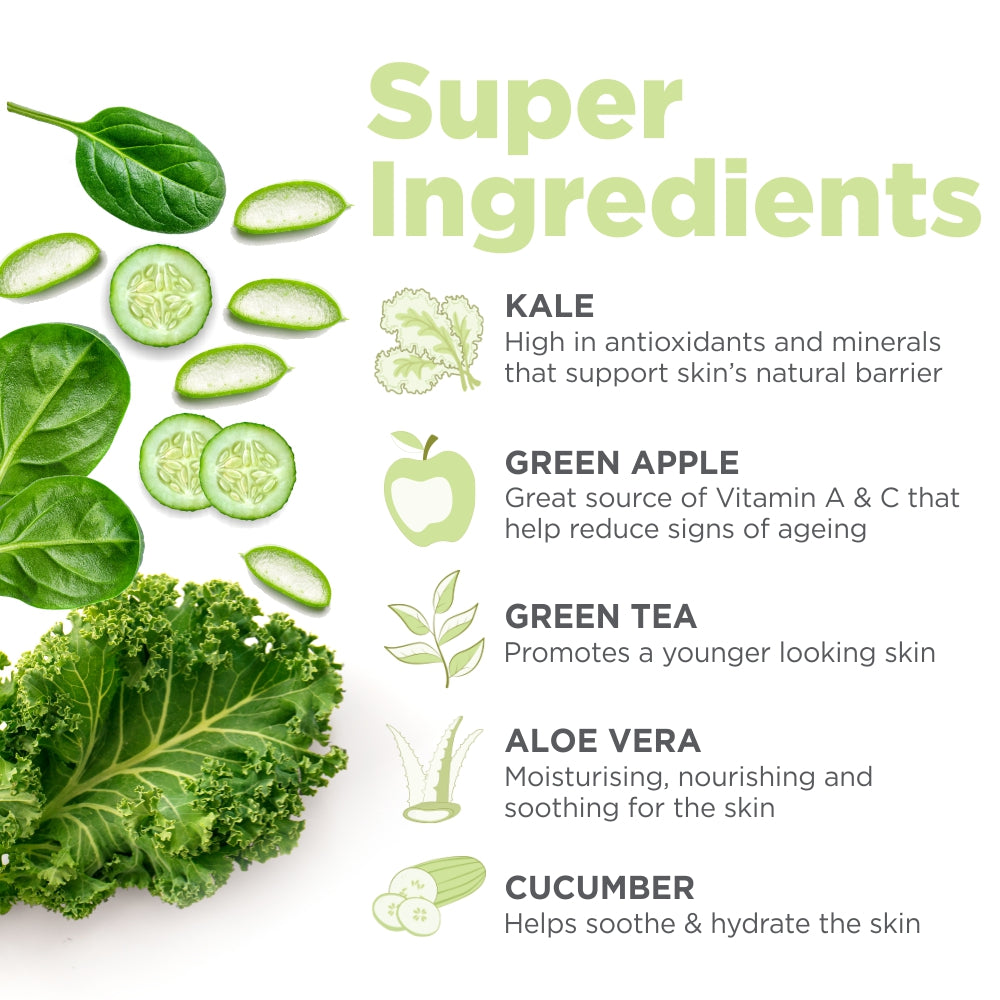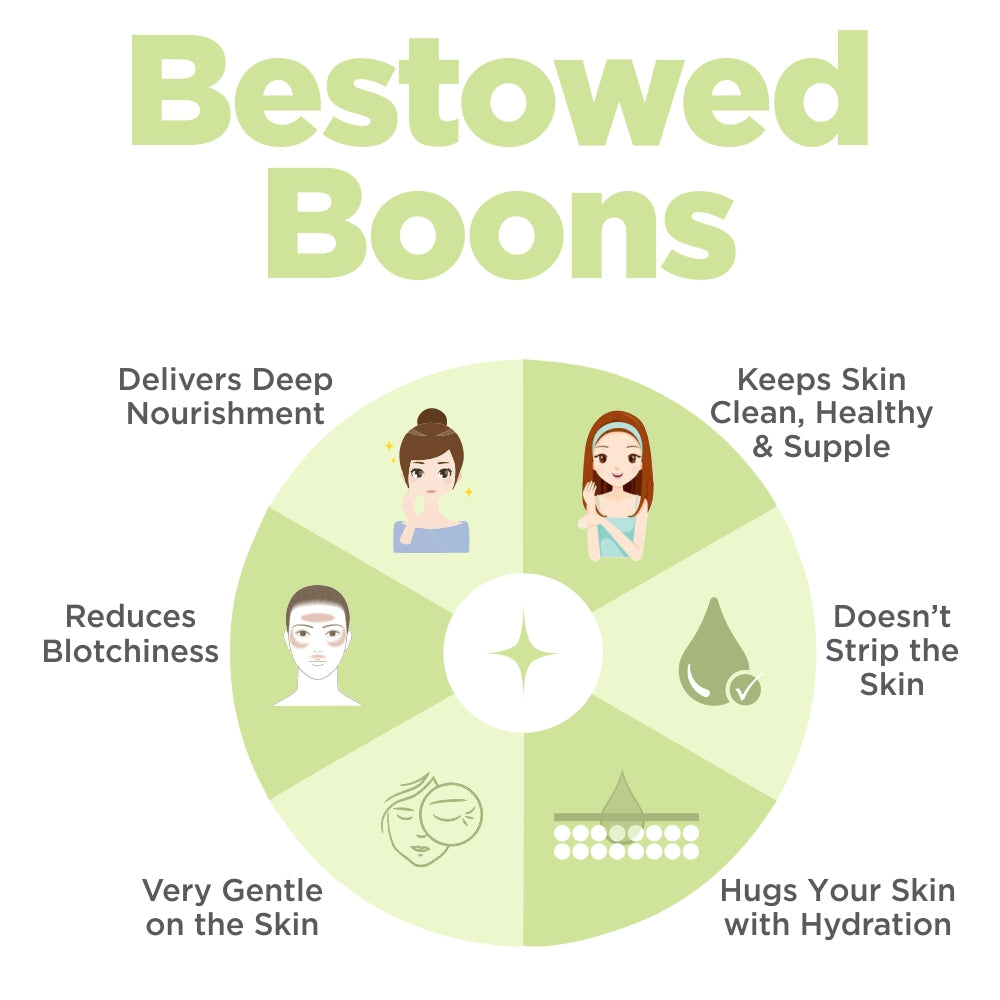 Collapsible content
Superfoods

- Kale
- Aloe Vera
- Cucumber
- Green Tea
- Green Apple
- Glycerin
- Allantoin
- Panthenol
Full Ingredients

Aqua, Cocamidopropyl Betaine, Cocamidopropyl Hydroxysultaine, Sodium Cocoyl Isethionate, Decyl Glucoside, Glycerin, Coco-Glucoside & Glyceryl Oleate, Aloe Barbadensis (Aloe Vera) Extract, Brassica Oleracea Acephala (Kale) Extract, PEG-120 Methyl Glucose Dioleate, Pyrus Malus (Apple) Fruit Extract, Cucumis Sativus (Apple) Fruit Extract, Camellia Sinensis Leaf (Green Tea) Extract, Panthenol, Sodium Benzotriazolyl Butylphenol Sulfonate & Buteth-3 & Tributyl Citrate, Allantoin, Chlorophyll Extract, Phenoxyethanol, Ethylhexylglycerin, Trisodium Ethylenediamine Disuccinate, Citric Acid, Fragrance.
How To Use

Dampen your face with water. While your face is still wet, take 1-2 pumps of the cleanser.
Gently massage it on your face and neck.
Rinse with water and pat your face dry.
For best results, use it at the start your skincare.
Why Happier is better?

At Happier, we believe in holistic self-care. Our products combine the goodness of natural as well as scientifically backed ingredients to maintain your body's harmony and strike a balance between your inner and outer well-being. Every formulation at Happier amalgamates extensive research and experimentation with carefully sourced natural superfoods for you to embrace a Happier version of yourself!
**Note: Products Under Clearance Sale are not eligible for return and refund.
What Our Expert Says!!!
Your hair is like 90% of your selfie. Thus, investing in your hair is always been a great investment. We all know how essential hair care is to maintain your...

Your hair is like 90% of your selfie. Thus, investing in your hair is always been a great investment. We all know how essential hair care is to maintain your...
More About Product
Get healthy glowing skin with the best face cleanser
Are you ready to feel more confident? When we talk about having clean, hydrated, and glowing skin, we recommend using a balanced face cleanser. A perfect face cleanser makes your skin feel hydrated, and refreshed at every use adding value to your skin type. Multigreens Face Cleanser is a product specially made to clean your face of dirt, pollutants, and impurities to give it a refreshing look daily. The product is your best buy for supplying your skin with crucial antioxidant greens. You get the nutrients from natural ingredients such as cucumber, green tea, kale, aloe vera, green apple, allantoin, and glycerin. We bet, you can proudly go out with a glowing face getting nourishment from this cleanser. Usually, dry skin loses its ability to retain moisture. But the natural green nutrients of the face cleanser increase your skin's ability to lock in water, so it is always supple and soft. The face cleanser is gentle on the face, giving you a calming and soothing feeling that makes your day. It has many benefits for the users. These include removing dirt and grime to keep your skin clean and shining. Using this face cleaner, you can effectively remove your makeup after wearing it for the whole day. It also doubles up as your hydrating and nourishing way for healthier skin. As a net result of using the cleanser regularly, your skin will appear supple and clean for a youthful appearance.
Buy the Dermatologist-Recommended Face Superfood Cleanser at the Best Prices
Removing the dirt, pollutants and many purities that accumulate on your facial skin and clog its pores is a big issue for many women. If left unattended, the skin can respond with pimples, acne, burning sensation, puffiness, and many other significant issues that you may need to visit a dermatologist for treatment. So, it is a wiser move to take care of your tender face skin early with the superfood cleanser to avoid seeing a dermatologist. Why is it called a superfood cleanser? Well, that is because of the ingredients used. This cleaner is the most healthy option to clean up dirt and makeup from your skin to give it a soothing effect in the end. It has many superfoods as nutrients for healthier skin. The cleanser has green apples and vitamin C for slowing the ageing process. You get aloe vera as an ingredient to provide adequate moisture to your skin and other nourishing and soothing effects. It also has kale rich in phytonutrients and Vitamin C, E, and K. These are the skin's natural barriers to keeping impurities away. Then, cucumber as an ingredient helps restore your skin's moisture level to the maximum level and heals dryness in the process. Green tea is another wonder nourishing element of the cleanser to provide antioxidants known for their anti-ageing properties. But you do not have to fork out excessive money to buy a superfood cleanser. We have ensured that your skincare routine should not be your financial burden. So, with us, you can buy beauty products online at the best prices that you can easily afford.
Best face wash for all skin types
While going to the market to shop for the best face wash for all skin types, you should carefully read the labels to find the right healthier ingredients. Choose the face wash with natural ingredients to avoid irritation and other side effects. This is your ideal face wash due to its herbal formula to cleanse your skin of excessive oil and several impurities, which clog your face skin pores and block the absorption of nutrients from cremes and other treatments. This face wash formula contains superfoods as the main ingredients, such as green apple, green tea, kale, cucumber, and aloe vera. These are the ingredients that most skin types accept without any irritation and side effects. So, the formula is suitable for pimple-prone skin, sensitive skin, oily and dry skin, or combination skin for both women and men. The face wash is your best option to restore your skin's pH balance, which is essential to keep it healthier. With its power of antioxidants and essential nutrients, you ultimately have the desired youthful look and get rid of tiredness. Most importantly, the face wash has hydrating superfoods that keep the moisture level high to give the skin a flexible and softer texture.
How to use Multigreens Face Cleanser?
Using the face cleaner is a simple process. Here are the steps to take: First, you must dampen your face and neck with water before applying the face cleanser. Then, pump just one or two drops of face wash on your palms. Massage the cleanser drops on your face and neck gently. Rinse it thoroughly with water and let it dry in the end. That is all you need to do. But repeat the process two times a day in the morning and before bedtime. You can use this face cleanser to remove makeup: When removing the makeup with the cleanser, use this double cleansing method: For first cleansing, apply the cleanser to your dry face skin Then, add some water to the cleanser to emulsify it. Add more water and rinse the formula thoroughly. For the second cleansing, apply the cleanser to damp skin and rinse it. You may also like:
Buy face toner for a healthier look
This face toner has the right combination of healthy ingredients from nature. Using this toner regularly nourishes your face skin without any side effects.
Get scalp exfoliator online
Buy your scalp exfoliator online to access its benefits at affordable prices. You get physical or chemical exfoliants to eliminate undesirable skin cells, dandruff, and oil and return your shiner hair. You can get such self-care products online with the right ingredients at affordable prices.
Must-buy Marine collagen for skin
The marine collagen for skin repairs skin collagen and elastin protein fibre to give skin a firmer look. It thickens the outer skin surface, reduces fine lines and wrinkles, and improves skin hydration.
FAQs for Multigreen Face Cleanser
How is a face cleanser beneficial?
A face cleanser with multigreens is your skincare product to take care of your facial skin by avoiding pollutants and impurities such as dirt, oil, makeup, and sweat. The cleanser cleans the skin and keeps it safe from clogging its pores.
Which is the best face cleanser?
Look for cleansers with green components, a natural source of nourishment. Look for cleansers with green elements, a source of nutrition. Multiple greens in a cleanser supply you with all the natural ingredients to keep healthy skin. More crucial green ingredients will ensure the supply of a host of essential nutrients for your skin.
Should I use a face wash or cleanser?
A cleanser is a potent tool to moisturize your skin by consistently hydrating it due to the use of superfoods specially included for this purpose. These are versatile cleansers for all skin types, while face wash is generally good for people with oily skin.
Is facial cleanser essential to use?
Regularly use a facial cleanser with multigreen ingredients to give your face a radiant look. It has anti-ageing properties as well. You can also maintain the proper size of your skin pores with a regular cleanser.
Is it ok to use a cleanser daily?
You should preferably use the face cleanser with multigreen ingredients daily for maximum benefits. Daily washing your face with the cleanser will keep those unwanted impurities away from clogged skin, making absorbing nutrients difficult. Make sure that you use the cleanser twice daily in the morning and night.
Should I use a cleanser first or face wash?
Using a cleanser before you use a face wash would be good. This is because a face wash removes debris deeper in the skin and cleans pores due to its foaming action. But if your face was exposed to a lot of pollution and dust, or you have been wearing makeup for a long time, then prefer using the cleanser before face wash. Follow this procedure as part of your self-care routine.
Is it right to use soap after the cleanser?
Due to its drying effect, you may irritate your facial skin if you expose it directly to a soap bar. But a cleanser has moisturizing ingredients, which help the skin regain its moisture level. So, avoid a soap bar in your self-care routine so that your skin does not have side effects.
How should I get clear skin all the time?
Besides making the face cleanser part of your self-care routine, you should also consider following other tips. For maximum benefits, wash your face twice daily with a cleanser. Find an acne-fighting agent and apply it daily to avoid the acne outbreak. Also, exfoliate, exfoliate to help your face get new skin. Pay attention to your makeup quality. Never use cheap makeup that clogs pores.